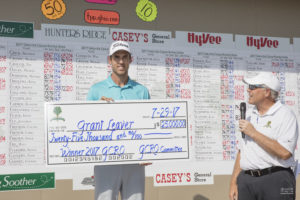 An early wedding present? Umm, probably not. One is led to believe Grant Leaver might have not been planning that far ahead in this case. He's more a man of the moment and what needs to be handled at that time is handled.
That's why he's the winner of the $25,000 first-place prize of the 19th annual TrueNorth Greater Cedar Rapids Open, presented by Granite City Food & Brewery.
Leaver, 31, held off an array of challengers to win the GCRO by three shots, shooting a 17-under-par 199. The slim, 6-foot-7 Leaver, out of Centerville, TN, does need to keep his calendar open for a Sept. 9 wedding date. But Saturday at Hunters Ridge Golf Course in Marion, it was all about handling the moment one step at a time.
Leaver, who has played on the Web.com Tour, has won on the SwingThought Tour and last week cashed a PGA Tour tournament check, shared the lead just once Saturday.
Playing with a shot second-round lead, he parred the first hole and playing partner Mitchell Homb birdied it. Tie game. Leaver, a 2008 Austin Peay grad, then had three birdies and a bogey to finish the front nine while Homb parred out. Leaver took a three-stroke lead over Homb when he birdied No. 11 to go to minus-17.  He then bogeyed the next two holes, as did Homb, then put the tournament away against his playing partner when he birdied No. 16 while Homb bogeyed. Leaver ended up shooting a 3-under 69 on the day while Homb (O'Fallon, IL), one day after a record-tying 61, faltered to a 2-over 74 and tied for eighth with four others.
"Just take it shot to shot. When you not feeling comfortable (with your swing) you can't beat yourself up over a bogey. I had two bad ones in a row, : said Leaver, of Centerville, TN. "I put some good swings together the next couple holes, gave myself some looks at birdies and rolled them in. You've got to take it shot by shot because you can get ahead of yourself pretty easily."
There were other challengers. Michael Davan (Zionsville, IN), who was four shots out of the lead entering Saturday's final round at Hunters Ridge, got to 14-under on the back nine but that was it. He finished second three shots back but won $10,000.
Brian Richey  (Lakeland, FL), Zach Wright (Stuart, FL) and Carson Schaake (Omaha, NE) all tied for third at 13-under. Richey and Schaake both got to 14-under on the back, but that was it. Schaake, who played at the University of Iowa and was in just his second professional tournament, might have had the best chance of catching Leaver. Schaake shot a 32 on the front nine and birdied No. 10 to get to 14-under. But he just couldn't find another birdie or two, despite some great chances, and bogeyed his last hole to finish at 13-under.
Eddie Olson (Aptos, CA) and Brandon Crick (McCook, NE) tied for sixth at 12-under 204. Olson tied for low round of the day at 7-under 65 with Eric Steger (Fishers, IN; T8) and Jake Tucker (Cullman, AL; T13).
Scott Pieri (Ft. Wayne, IN) fired a solid 1-under 71 and went wire-to-wire to win the Senior Division by five shots over Matt Mankin (Roanoke, VA). Pieri finished 12-under-par. Clay Devers was third.
Same story in the Amateur Division. William Bruyeres, a Mt. Mercy golfer from Australia, completed his wire-to-wire despite a 2-over-par 74. He finished bogey-birdie to post an ever-par 216. He beat Andrew Wood by two strokes and Jake Sevcik and Max Thrune by three.
For more coverage, click here.